blog
The Ultimate Guide to the Types of Lasers Used in Aesthetic Treatments
Dec 20 2022
Reading Time:

6

Minutes
Author:

Patricia Pezzano

Laser treatments are changing the medical aesthetics industry because they can be calibrated to reach different layers of skin, and therefore address issues in ways other technologies can't. 

There are a wide variety of lasers used for aesthetic treatments today, each one targeting a special set of aesthetic concerns.

In this blog, we've gathered the most common and popular types used in licensed facilities by trained medical professionals, along with what skin concerns they address.

Table of contents:
Types of Lasers for Skin Resurfacing
Laser skin resurfacing works by removing a very thin layer of dead skin and/or heating the skin underneath, prompting it to heal and replace flawed cells. It is done to correct surface imperfections like:
Roughness

Dullness

Shallow and hypertrophic scars
Dark marks

Fine lines

Dilated pores
The best and most common types of lasers used for skin resurfacing include: 
CO2 Laser
An ablative laser that uses pulses of laser beams to penetrate skin and remove the superficial layer. It is effective on aging and sun damaged skin, and at times, used to treat skin cancer. 
Erbium Laser 
Similar to CO2 laser but involves less heat and does not completely destroy superficial skin, resulting in shorter downtime but also milder results. It is more compatible with skin with surface-level flaws like fine lines, mild scars and uneven skin texture.
Pulsed Dye Laser
Unlike other lasers, the pulsed dye laser can treat facial redness, psoriasis and spider veins, in addition to photodamage, acne marks, fine lines, wrinkles, brown spots and warts. There is typically minimal downtime involved, with temporary bruising in some cases that usually fades in about a week. 
Fractional Laser
First introduced as Fraxel, this is a type of laser treatment that works on both the surface and middle layer of skin. It induces skin to go through a natural healing process where damaged skin is replaced with newer and healthier cells.
There are three different types of Fraxel lasers:
Fraxel Restore

: Most useful for treating sun damage and unwanted pigmentation, but also works on scars, fine lines and in refining skin texture. It slowly refreshes and rejuvenates skin after a series of treatments.

Fraxel Dual

: A non-ablative treatment that uses two wavelengths, 1550 nm and 1927 nm, to treat skin at different depths. By targeting more layers, Dual Fraxel is able to treat more concerns with fewer sessions, and the

licensed practitioner

may choose to use just one wavelength, depending on the patient's skin condition. 

Fraxel Repair

: Commonly used for treating wrinkles, acne and surgical scars, reducing the appearance of large pores, correcting melasma and reducing the prominence of stretch marks. It is a more aggressive version of Fraxel, but it can provide a more dramatic result in just one session.
Halo Laser
A hybrid fractional laser treatment that combines ablative and non-ablative laser to reach different layers of the skin. Halo is highly customizable and can accommodate different skin types and tones. The process also helps rebalance sebum production, and patients who underwent Halo might notice fewer breakouts and a more luminous aura.
Types of Lasers for Hair Removal
Laser hair removal offers a more convenient, economical and longer-lasting alternative to ordinary hair removal solutions.
Lasers help permanently stop hair growth and improve skin texture by eliminating ingrown hairs, chicken skin and the unsightly hair shadow left after shaving, waxing or chemical depilation.
There are many types of lasers used in hair removal. They include:
Ruby Laser
One of the earlier laser hair removal technologies developed and therefore not as efficient as newer options. It works better on lighter and finer hair, and on light skin, which is great for fair-skinned individuals who are at risk of getting burned with other laser hair removal technologies.
Diode Laser 
It uses long wavelengths to remove unwanted hair, and works well on coarse hair and medium dark skin tones. It is also virtually painless and requires only a few sessions to get ultimate results, depending on the patient's condition.
Alexandrite Laser 
This one uses shorter wavelengths to reach hair, but it doesn't penetrate deeply. It requires more sessions to achieve permanent results, but is usually less painful than other methods.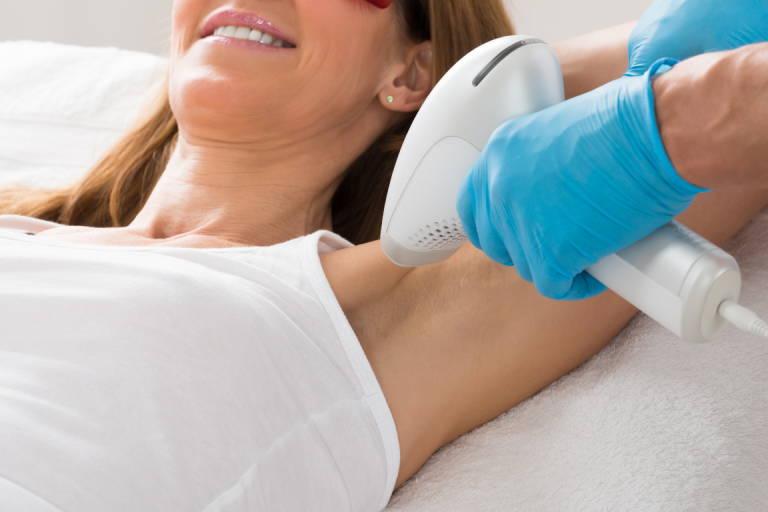 Nd:YAG Laser 
Uses the longest laser wavelength and penetrates the deepest, which means fewer sessions necessary to permanently get rid of hair. 
Home "Laser" Device
Not a laser device but rather portable Intense Pulsed Light (IPL) machines. Since these devices are made safe for use without medical supervision, they are also less potent than in-clinic IPLs. Results are superficial; it burns exposed hair and leaves the roots intact. In addition, since the devices do not come with cooling technology, there's a risk of getting burned during use, which can result in infection and/or scarring.
Types of Lasers for Tattoo Removal
Tattoos can be removed with high intensity light beams which break the ink down into smaller particles, allowing white blood cells to seize the ink and bring it to the liver so you can naturally flush it out of your system. 
The most common types of lasers being used for tattoo removal are:
Q-switched Ruby laser

for removing black, blue and green ink;

Q-switched Nd:YAG laser

for removing red, black and blue pigments; 

Q-switched Alexandrite laser

for removing black, blue and green pigments, similar to Ruby; and

Picosecond laser

, primarily for removing red, yellow and orange pigments, but can also remove other ink colours.
Q-switched lasers use both light and heat in destroying pigments. It is important to note that Q-switched laser light can be absorbed by melanin, which is why incidence of scarring and hypopigmentation is possible. Textural changes and hyperpigmentation are also possible but very rare.
Picosecond lasers, on the other hand, use shorter pulse lengths and high energy, without heat, resulting in higher powered sessions and in turn, better ink clearance.
Both types of lasers are also used in treating skin discolourations, but Pico laser is safer for most skin tones.
Types of Lasers for Pigmented and Vascular Lesions 
There are several kinds of pigmented and vascular lesions that can be treated with lasers, including:
Hemangiomas (cherry birthmarks) 

Port-wine stains

Telangiectasia

Rosacea

Varicose veins

Spider veins

Broken capillaries
Cafe-au-lait macules 

Benign nevi

Lentigines

Post-inflammatory hyperpigmentation (PIH)
Pyogenic granulomas

Melasma

Sun spots

Age spots

Freckles

Tattoos
The most common types of lasers being used to target different pigmented and vascular lesions are:
Pulsed dye lasers

: Best for reddish discolourations and visible veins. 

Nd:YAG:

Effectively targets hemoglobin but there's a risk of ulcer. May also be used on brown discolourations and for

short-term treatment of melasma

.

Potassium titanyl phosphate laser (KTP)

: Works well in reducing melanin, hemoglobin and red tattoo ink.

High-power optically pumped semiconductor laser (HOPSL)

: More selective and has 40% higher absorption rate than KTP. Effective against brown spots and superficial blood and skin lesions.

Erbium:YAG laser

: An ablative laser treatment that causes minimal thermal damage to destroy pigments. Works on melasma but may result in rebound hyperpigmentation.

Intense pulsed light (IPL)

: Targets melanin and removes excess pigment. Can be used to treat PIH and melasma. 

Fractional lasers

: Also uses thermal damage to destroy pigment, but may be ablative or non-ablative, depending on the severity of the patient's condition.

Endovenous laser therapy

: A minimally invasive laser procedure using laser fibres inserted into affected veins, guided by ultrasound, to collapse varicose veins and ultimately reduce discomfort associated with them.

Types of Lasers for Fat Reduction 
Laser is a minimally invasive way to reduce excess fat, compared to traditional liposuction methods. Of course, that doesn't mean there won't be any risk, but the list becomes shorter and patients can return to normal activities sooner.
Let's compare some of the most common types of lasers used in fat reduction:
Wavelength Diode Continuous-wave Laser
Liquefies fat cells prior to suction. This procedure usually takes less than an hour per area and has virtually no downtime.
Cold Laser 
Uses low levels of laser energy to break down fat so they can be naturally flushed out by the system. It is called "cold" laser because the treatment does not have any thermal effect on tissues and does not result in tissue, nerve, or vessel damage.
Nd:YAG Laser 
Used to emit short pulses of high-peak laser energy to break up and drain stubborn fat that does not respond to diet and exercise, while also tightening the skin of the treated area. 
Become a Certified Laser Technician
APT Injection Training is an internationally recognized training facility in Canada offering  registered medical professionals around the world the opportunity to become a certified laser technician through comprehensive online laser module courses. Get equipped with the technical and theoretical knowledge needed in order to effectively operate each of the types of lasers outlined in this blog.
Call us now or leave a message and we'll help you start your laser training today!
Tips to be a
Successful Injector!
Free E-Book download
Recent Posts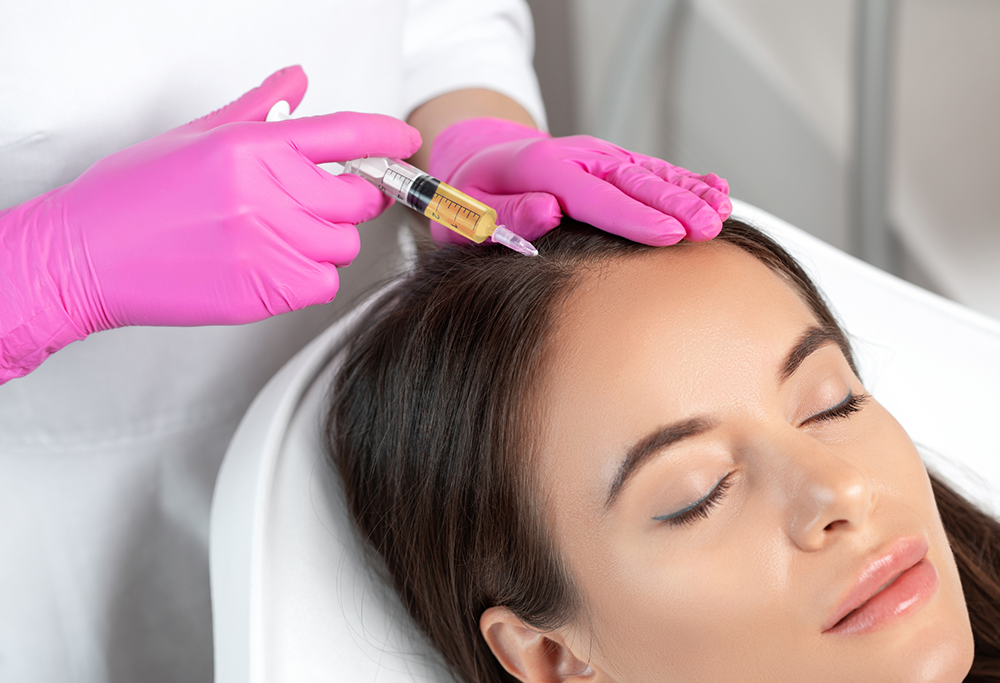 What Is Regenerative Aesthetics?
Oct 24 2023