APT injection Training provides Internationally recognized courses for registered Medical professionals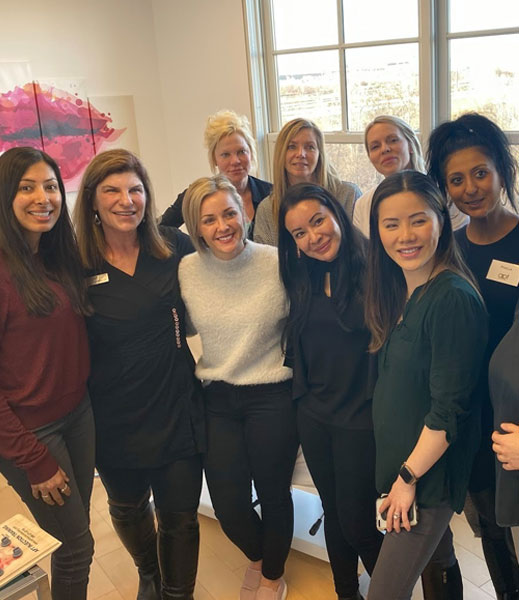 Our mission and vision have always been to share our knowledge and hone each of our student's potentials to empower them to become expert practitioners in the highly competitive world of medical aesthetics. We are proud to have produced a new breed of certified toxin and dermal filler injectors who continue to uphold excellence in providing the standard of care and exceeding client expectations.
Through the years, we have witnessed countless APT students work hard to accomplish their injection training courses and obtain their certifications.
We have seen aspiring health professionals— licensed physicians, dentists, nurses, nurse practitioners and practical nurses—who have successfully forged a new career in the industry and opened doors of promising opportunities. They have expanded their current practice, developed their clinical repertoire, and increased their list of clientele.
Despite our many years of existence and the overwhelming praises that we have received, APT Injection Training Centre is committed to strive harder and give nothing but the best to our future students. Our programs boast of a league of competitive instructors who possess a wealth of information about the latest facial rejuvenation techniques and who are more than willing to share their unique discoveries, trade secrets, and anecdotal accounts from years of practical experience in a clinical setting.
Are you interested in signing up for one of our training programs? Check out what APT students have to say about us!
Lyndsey Gallant
"Just finished a weekend training course with the APT team and absolutely loved it! Everyone was so warm and welcoming- creating a positive learning environment. The instructors were so patient and a wealth of knowledge ! The course definitely provides you with so many learning opportunities hands on teaching with a 2:1 student teacher ratio. APT – you guys really gave me the confidence to push forward that I needed! Thank you for everything ! I can't wait to go back for some advanced classes !"
Jodie Weir
"Tonya did the hands in clinical with me on Monday and she was a lovely soul who is an incredibly talented injector. The APT program has a wonderful detailed academic portion along with the hands on training with high skilled injectors. I am so grateful I had this opportunity with this program and Tonya the clinical educator. Sara was awesome with me right from the first email and dealing my multiple anxious emails lol. The rest of the staff was very friendly, welcoming and lovely."
Shani Imandar
"Well laid out academic component in addition to an extensive hands-on practicum. Special thank you to Rachel & Cynthia, expert trainers, who offered valuable suggestions, advice and techniques from their many years of experience. I feel confident and prepared to get started. Many thanks!"
Sign up for our Newsletter
TEAM
Meet Our Botox and Dermal Filler Training Team
Our rejuvenation training team is dedicated to providing the highest possible standard of education and practice in facial rejuvenation injection techniques.
Worldwide Admissions
Canadian education opens doors to endless possibilities. In addition to training at our facility in Oakville, Canada, we now provide online and distance education to licensed nurses and doctors across the world. We take pride in being the only training facility in Canada to offer international certification in aesthetic medicine accredited by OTHM, the globally regulated certification body.